The titration curve

for a strong acid

has a very large jump in pH at the equivalence point

, while the jump for a weak acid

is much smaller. This fact can be used to distinguish strong acids from weak provided the concentration of the acid is not much less than 0.1 M.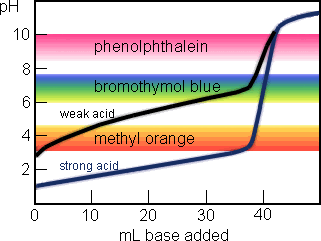 The rather gaudy diagram above shows the titration curve for a strong acid (40 mL of 0.1 M HCl, titrated with 0.1 M NaOH) in blue, and the titration curve for a weak acid (40 mL of 0.1 M HC2H3O2, Ka = 1.8×10-5) in black. The colored bands show the pH ranges at which indicator color changes occur.

For the strong acid, the equivalence point occurs at pH 7.0. Bromothymol blue is the best of the three indicators for this titration. But the color changes for methyl orange , bromothymol blue, and phenolphthalein will all occur at nearly the same volume of added base.

For the weak acid, the methyl orange color change will occur long before the equivalence point, the bromothymol blue change is slightly premature, and phenolphthalein color change occurs close to the correct place (around pH 8.9). The weaker the acid is, the larger the discrepancy between the three indicator endpoints will be.

This method of distinguishing strong acids from weak ones won't work if the concentration of the acid and/or the titrant is much less than 0.1 M. Diluting the acid makes the "break" in the titration curve less steep and the indicator endpoints will differ even for strong acids in that case.